iMac and Mac Computers Repair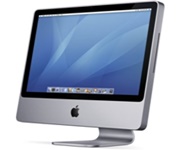 We are specialized in repairing iMacs and Mac computers. We do have solutions for any hardware or software problems and are able to repair or upgrade any model of an iMac or Mac computer!
The iMac is one of Apple's desktop computers. In addition to its computer hardware and software, it possesses an LCD screen, all in one piece. As with any other computer or screen, problems and malfunctions may develop.
The most common problems with iMac computers
An iMac will not turn on at all.
The computer is on, but there is no picture and you have a black screen.
An iMac shows a white screen with folders and a flashing question mark.
Mac OS X won't boot with a spinning circle all the time.
An iMac works too slow or freezes up from time to time.
An iMac freezes up in the middle of work.
The "kernel panic" alters: You need to restart your computer.
The iMac's screen or glass is broken or damaged in some way.
An iMac shows vertical colored lines.
The picture is updated too slow.
An iMac shows a white screen for a second and then shuts off.
An iMac randomly shuts off.
An iMac's fan makes noise or spins too fast.
An iMac overheats too much and then slows or shuts down.
The screen shows a split image or artifacts.
An iMac shows vertical and symmetrical lines.
There is a problem of a dual boot with another operating system.
Disc Utility says that it cannot fix the hard drive.
The hard disk is not working or is dying.
Mac OS X or Windows is corrupted.
What services do we offer to repair iMac?
Hard disk upgrading, replacement or repair.
RAM upgrading or replacement.
Cooling system repair or cleaning.
Hard drive reformatting and installation of a new Mac OS X.
Current data backup.
Repair or installation of Mac OS X.
Installing the Windows operating system, dual booting together with Mac OS X.
General cleaning of hardware and software to accelerate the speed of an iMac.
LCD screen replacement or repair.
Screen glass replacement.
Inverter replacement or repair.
Power supply replacement or repair.
And much more!
If you do not know what the exact problem of your iMac is, bring it to us. We will run a diagnostics and give you a fair quote, it is free.
Do not hesitate to contact us via our website or phone if you have any further questions. We won't let you wait long.