laptop Screen Hinges Repair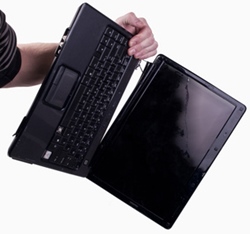 We provide a solution for every problem related to screen hinges or display connections!
Laptop display hinges are the connection between the laptop screen and the laptop body. When opening and closing the laptop screen, it happens that  screws holding  the screen and the body together, get loose.  If  the hinges won't  be re-strengthened  tight enough, plastic parts and hinges may break. Then finally the screen may get released from the body of the laptop or a more serious damage may be caused to cables and the LCD panel itself.
Sometimes the screen hinges themselves are broken, and in this case they must be replaced by new ones.
Laptop screen hinges repair or replacement
Broken screen hinges replacement.
Repair connections between the laptop's body and the screen.
Screws bases repair or hinges' connection strengthening.
Broken cable replacement or repair (as a result of a released screen).
If you notice that something is wrong with the hinges of the screen, or if the screen becomes loose and you don't know why, the situation can deteriorate to the point where the laptop itself will no longer be usable.
If you don't handle it, you will soon find yourself in one of the following situations:
Breakage of plastic parts;
The LCD screen's cracking;
Damage of the cable;
Damage caused to any other cable (WiFi cable, webcam cable, microphone cable);
Damage to the motherboard caused by a short-circuit in the cable.
If you do not handle the loosed screen in earlier stages, the repair of these damages will cost you a lot of money.
Prices
The prices depend on the severity of the damage. It also depends on whether we'll have to replace certain parts or we fix them. In case of a severe damage, for which we will have to disassemble the laptop and the screen fully to repair plastic parts and screw installations and reconnect the screen hinges, you may have a cost of around 500 NIS. But it may cost you only 150 NIS or even less, depending on which situation the computer is in.
However, it is very difficult to give an exact price until the laptop has been diagnosed. If we have done that, we will be able to quote you a price.
Don't get into a situation where you will have a pile of scrap. Bring us your computer as soon as you notice something is wrong with the screen hinges, so we can help you in the most affordable way possible.
Contact us today, or call the number at the top of this page.