Laptop Screen Repair or Replacement
Ask any question via phone: 054-225-7705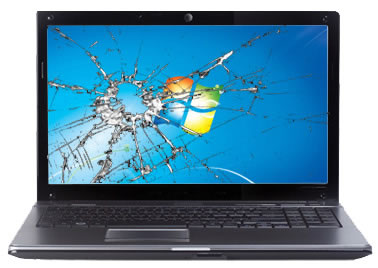 You've sat on your laptop? Or stepped on it? You've dropped the laptop and it hit the floor? The laptop's screen stopped working in some way?
No problem! Here at the laptop repair lab we can diagnose and perform the laptop screen repair or replacement FAST!
Below you'll find a list of the most common problems laptop screens can have. Some will require a screen repair. In other cases, it is necessary to replace the laptop screen.
The screen shows garbled colors.
The image gradually disappears.
The laptop screen does not display any image.
There is a weak background light or no light at all.
There are colored horizontal or vertical lines.
Flickering screen.
The screen turns off immediately after it was turned on.
From time to time the screen turns off.
There is a slightly reddish background color.
There is a white screen that displays no picture.
The laptop screen is broken.
In most of cases mentioned above, a screen repair will be possible. If the screen is physically damaged, the only way to repair it will be a replacement by a NEW LCD screen.
Sometimes the problem lays in the motherboard and not in the LCD screen itself. Therefore it is better to get in contact with our laptop computer technicians who will diagnose your laptop first and find the reason for the problem.
A repair or replacement of a screen can be performed in our lab or (if possible) at the customer's home or office.
We guarantee that repairing a screen (or doing a laptop screen replacement) will be performed quickly and with the utmost professionalism.
Contact us now or call us if you have any questions.