Apple Monitors Repair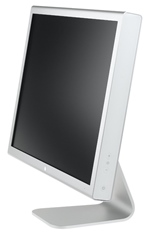 Our lab is able to repair all models of Apple monitors – the repair is done by experts familiar with Apple screens, who deliver service of excellent quality.
Below we will provide more details about different Apple screen models that we repair. Apple is a well-known leading company producing high-quality products. Apple's screens are luxurious, comfortable and present high-resolution displays.
Apple introduced it's first flat screen in 1998 – the "15" Apple Studio Display.
The company continued to develop and distributed screen series named Apple Cinema Display, in various sizes and parameters until July 2011. Then production of the Thunderbolt Display began.
Here are the various Apple screens that we repair:

Newer Apple monitors:
Apple Cinema Display (2003-2010)
A1038
A1081
A1082
A1083
LED Cinema Display
Older Apple monitors:
Apple Studio Display (1998-1999)
M4551, M9103, M7613, M2454, M7649
Apple Cinema Display (1999-2003)
M5662, M8149, M8536
Even if you don't see your monitor in the above list, call us or contact us now and an Apple technician will be able to help you with your Apple screen.
Our Apple monitors repair service won't let you wait long!