MacBook, MacBook Air, MacBook Pro Keyboard Replacement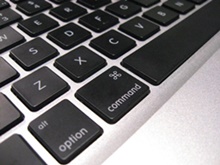 If your MacBook, MacBook Air or MacBook Pro keyboard has stopped working, if one of the keys stopped functioning properly or if the keyboard has some other problem – you found the right place!
Our laboratory is specialized in the repair or replacement of any MacBook keyboard. A MacBook keyboard replacement demands different procedures and levels of work difficulty within the various MacBook models.
It isn't an easy task to replace a MacBook keyboard. Some models require a replacement of the whole upper cover because the keyboard can't be separated from it, though in most MacBook models solely keyboard is replaceable.
For example, in MacBook Air A1369 or A1466 only the keyboard can be replaced, where some labs will tell you that the procedure requires a replacement of the whole top case and will charge you a much higher price. But in fact, keyboards of MacBooks such as, MacBook Pro and MacBook Air or any other aluminum models can be separated from a top case if a replacement is needed.
However, the keyboards of MacBook A1342 or A1181 (usually made of white plastic) made to not be separated from the top case. Even in these models we have succeeded in separating and replacing keyboards.
The most common problems of MacBook keyboards
The keys of a keyboard is sticky.
The keyboard has stopped responding completely.
One or more keys do not function.
Some keys are printing two or three times in response to a single click.
Keys are not printing correct letters.
Some keys are missing.
Some keys have a broken mechanism.
We provide following services for MacBook, MacBook Air and MacBook Pro keyboards:
MacBook keyboard repair or replacement.
Repair or replacement of any missing keys.
Cleaning sticky keys or the whole keyboard.
Repair of the keyboard's software in any MacBook.
How much does it cost to replace or repair a keyboard of a MacBook, MacBook Air or MacBook Pro?
The price of a MacBook keyboard's replacement varies between 700 NIS and 900 NIS, depending on a laptop model.
The price can vary greatly and depends on what needs to be done to fix the keyboard. The best thing you can do is to contact us with detailed information about the problem or bring your MacBook to our lab. We will perform a diagnostic test and offer you a quote.
It's important to know
If you spilled coffee or any other liquid on the top of your MacBook, don't wait and hope that it will be fine. In 90 out of 100 cases it won't be fine! Sooner or later, the corrosion will cause internal damage. The consequence is that you will have to pay much more to fix your MacBook!
If you spill a liquid on your MacBook, contact us or call us as soon as possible before you bring it to our laboratory for further information and instructions of what to do next.